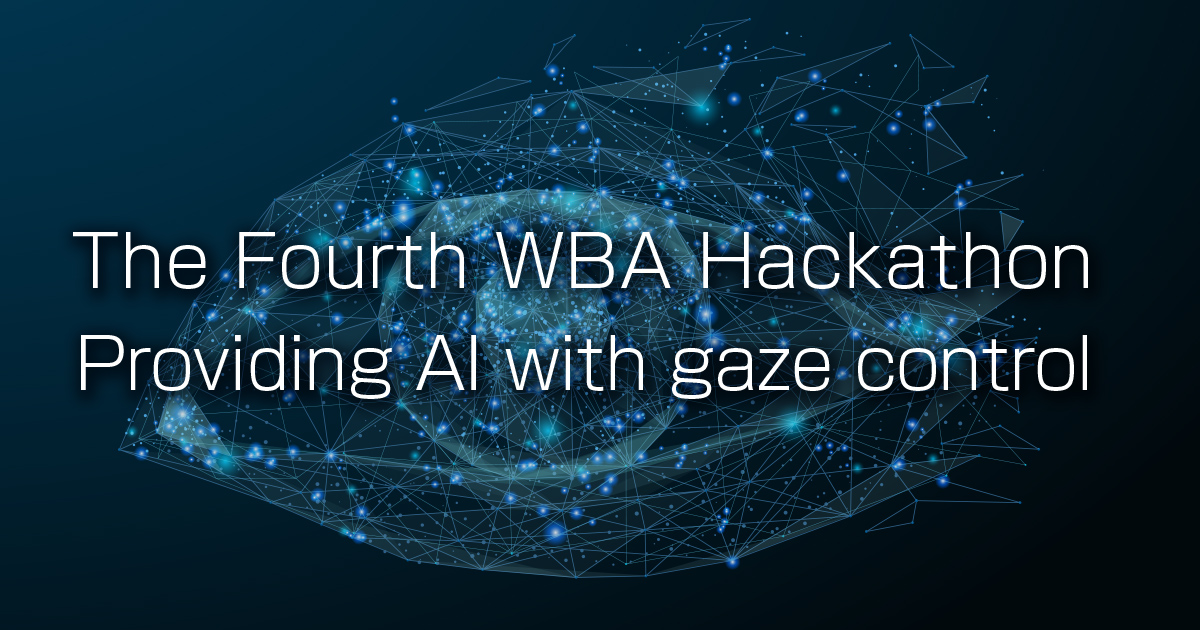 The Whole Brain Architecture Initiative (WBAI) is an NPO supporting the realization of artificial general intelligence for human society over the long term.
The WBA Hackathon started in 2015. The themes of the previous hackathons were "Combined Machine Learning," "Cognitive Architecture," and "Brain-inspired Cognitive Architecture (video)."
This year's theme is "Providing AI with gaze control" and the participants will be asked to create a single computational model that solves several visual tasks mimicking the brain.  There are two technical points: One is to control eye movement that would be partly done with the neocortex in the brain. The other is a control circuit consisting of a loop between the basal ganglia and the neocortex, where the former sends suppressing signals to the latter.  The loop is not unique to eye movement but also common to body movement in general and to higher cognitive functions such as thinking and volition, so that its realization would be an important key for the whole brain architecture.
Date
October 6th, 7th, and 8th, 2018
Venue
Φ Cafe, Kadokawa Hongo Bldg. 6F, 5-24-5 Hongo, Bunkyo-ku, Tokyo, Japan
Cost
No fee for attendance, while participation may incur travel and lodging expenses.
See below for financial aids for students.
Registration
Register by August 27th from the registration form.
The registration should be team-basis (consisting of one or more members).  Please create a team repository on GitHub and specify what you'd like to achieve during the hackathon on Readme.md before registration.  All the team members should be specified in the registration form.
Registration may be declined if the number of participants exceeds the limit (about 40 persons), or the summary given is judged irrelevant to WBA or antisocial.
Publishing your work
Participants should publish their work created in the hackathon with a Readme file on GitHub under the WBAI Contributor Agreement and the Apache 2.0 License.
Evaluation
Tasks on the provided simulator will be used to evaluate the system you create during the hackathon.  A single system that performs more tasks, i.e., that has more generality, will be valued more highly.
Achievements will be juried in terms of the following criteria:
Neuroscientific reality

in module functions

in module connections

Performance

Versatility for tasks (functional generality)

Learning rate

Speed & accuracy of execution

Reward rate (success rate ÷ time required for decision making)

Other points (judged from your presentation and source code)

Computational simplicity

Originality

Usability
The winner will be awarded with cash prize.
Important dates
CFP: July 25th

Task sample code release: August 14th

Orientation: August 19nd

End of Registration: August 27th

Acceptance notice: August 31th

Agent sample code release: August 31th

Hackathon: October 6th – 8th

Opening: October 6th 10:00am JST

End of work: October 8th Noon

Review, Presentation, and Awarding: 8th afternoon till 17h
Financial aids for students
Students meeting all the following conditions will be eligible for financial aids with regard to travel and lodging expenses up to JPY65,000/person.  Application can be made from the registration form.
You should fully participate in the hackathon at Φ Cafe on October 6th, 7th, and 8th.

Your work at the hackathon with a Readme file should be published on GitHub.
For details, please contact us.
Software Resources
A sample cognitive architecture will be released on August 19th. The default programming language will be Python.
Remote Sites
If you cannot come to Tokyo, you can still set up a WBA hackathon site in your vicinity. Please contact us!
Further Information
If you have questions, please contact us at hackathon2018 [at] wba-initiative.org.
Organizer: The Whole Brain Architecture Initiative (Operated by the WBAI Supporters)
Collaborated with Dwango AI Lab.
Supported by: