Our activities in FY2018 (from April 2018 to March 2019 — the fourth year) include educational and R&D businesses.  They were implemented according to our policy for FY2018.
In FY2018, we have established a basic concept for promoting the development of brain-inspired AGI by bridging the communities in neuroscience and AI​​/ML, with the development methodology described below (Figure 1).  In this concept, architects with expertise in neuroscience create functional circuits as design data and provide them to AI/ML engineers. There are top-down and bottom-up development approaches. In the former, functional circuits to solve specific task sets are created as specifications, and in the latter, brain organ frameworks are created to represent  functional circuits for specific areas in the brain.
We believe that the democratic collaborative development of brain-inspired AGI will be facilitated and by promoting and managing the accumulation of brain-inspired AGI designs by WBAI as an NPO and that it will contribute to the people of the future.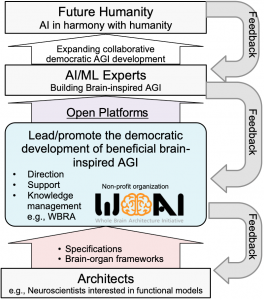 Figure 1: WBAI's basic concept to promote the development of brain-inspired AGI
Educational Business
The goal of our educational business is to help people who conduct research on the WBA approach on a long-term basis. In FY2018, WBAI held the fourth WBA hackathon, a symposium, and WBA seminars.
WBA Seminars
In FY2018, WBAI held five seminars (in Japanese) with the following themes and speakers:
22nd Seminar: June 28, 2018,

Autonomy & Generality




with Ichiro Tsuda (Chubu University Academy of Emerging Sciences), Masahiro Fujita (Sony Corporation) and Akira Kurihara (Keio Univ.)

23rd Seminar: August 19, 2018,

Reinforcement Learning in the Brain




with Sachiyo Arai (Chiba Univ.) and Hiroyuki Ota (National Defense Medical College)

24th Seminar: November 29, 2018,

Abduction — towards hypothesis-generating brain-inspired AI




with Tatsuji Takahashi (TDU), Seiya Sato (TDU),  Eisaku Maeda (TDU), and Kazuhiro Sakamoto (Tohoku Medical and Pharmaceutical Univ.)

25th Seminar: January 24, 2019,

Computational Psychiatry




with Shin'ichi Asakawa (Tokyo Woman's Christian Univ.) and Yuichi Yamashita (National Center of Neurology and Psychiatry)

26th Seminar: March 20, 2019:

The Free Energy Principle




with Shigeyuki Oba (Kyoto Univ.), Takatsune Kumada (Kyoto Univ.), and Toshiro Inui (

Otemon Gakuin Univ.

)
The Third WBA Symposium
The symposium (in Japanese) was held at the Tokyo head office of Toyota Motor Corporation on August 29, 2018 with the theme "the path to good AGI by learning from the brain" with speakers: Hiroshi Yamakawa (Dwango AI Lab), Kenji Doya (OIST), Takashi Omori (Tamagawa Univ.), Satoshi Kurihara (Keio Univ.), and Hiroshi Nakagawa (RIKEN).  It was supported by Future of Life Institute, Good AI, Beneficial AI Japan, Japanese Neural Network Society, Dwango Co., Ltd., and the Japanese Society for Artificial Intelligence. At the symposium, Kazuma Kadomae, who has been involved in event photography, was awarded the WBAI Achievement Award, and Masahiko Osawa and Akira Taniguchi were awarded the WBA Incentive Award for modeling the hippocampus.
The Fourth WBA Hackathon
WBAI held its fourth hackathon for three days from October 6th, 2018 with the theme of "Providing AI with gaze control."  Seven teams participated in the event and worked on the theme. The event aimed to improve the knowledge and skills of the participants and provide an opportunity for social networking among students and researchers.  The hackathon was prepared by the Dwango AI Lab and a prize was sponsored by Furuya Accounting Office.  The products of the hackathon have been published on GitHub.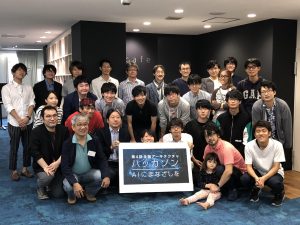 R&D Business
The goal of our R&D business is to support research activities on the WBA approach.  A major breakthrough in FY2018 was a prospective development methodology to overcome the human resource problem to create brain-inspired AI with expertises in neuroscience and AI/ML.  The research activities were carried out by the institutions/projects stated in the text below.
Development methodology
WBA development has been lacking human resources with multiple specialties.  The development methodology addresses the issue by creating division of labor [4].  As shown in Figure 2, the point is to provide engineers with "functional circuits" as specifications to be created by architects with neuroscientific knowledge.  A functional circuit corresponds to a partial structure of the whole brain reference architecture (WBRA) as a static reference model of the entire brain. Figure 2 illustrates a top-down development approach in which functional circuits required to solve specific task sets are created as specifications.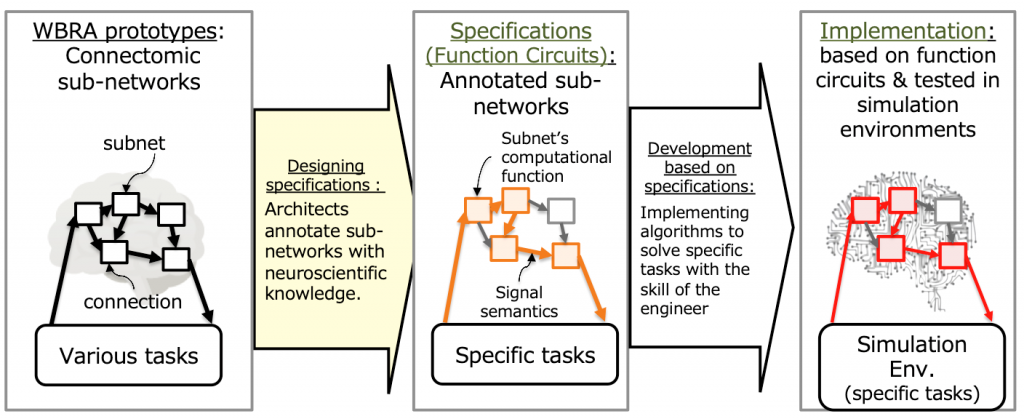 Figure 2: Top-down development method with functional circuits as specifications
In promoting AGI R&D, it is important to have a view of paths (roadmaps) toward AGI.  For this issue, we collaborated with researchers from Dwango AI Lab., Keio University, and Tamagawa University to disassemble and organize the cognitive functions (capabilities) necessary for AGI (function map creation) [1].
Stub-driven development was conducted in the preparation of the fourth hackathon.
Collaborating with local research groups (R&D promotion)
We are collaborating with other organizations to develop research infrastructure to support research in the WBA approach.  In FY2018, we conducted joint activities in the following R&D.
Integrated Executive Platforms
RIKEN has been developing an integrated software platform for building WBA [3].
Brain organ frameworks
Constructing WBA requires neuroscientific surveys on brain organs (e.g., the neocortex, hippocampus, and basal ganglia) and determining their basic circuit configurations (frameworks).  For the neocortex, we tried to apply a machine learning algorithm based on the Neocortex Master Algorithm Framework proposed in 2017 (mainly within the framework of the Kakenhi project "Brain Information Dynamics") [2][5].  We also studied a framework for the hippocampus with Sophia University and Dwango AI Lab. [7].  A survey was made on the relationship among "conscious access," cerebral networks, and decision making (with the Kakenhi funding of the "Brain Information Dynamics" project) [9].  The brain organ frameworks are also described as functional circuits with the development methodology, while we are currently taking a bottom-up development approach.
Establishing a foundation for neuroinformatics
Neuroinformatics is a basis for brain-inspired AI development, where Dwango AI Lab. conducted research [6][8].
Aphasia model and hands-on
Hands-on with an aphasia model were conducted in September 2018 and March 2019 under the initiative of Dr. Shin'ichi Asakawa (Tokyo Women's University).
Learning environment simulator
The research of human-or-animal-like AGI agents is facilitated with 3D environments for agents to learn and be evaluated.  In FY2018, we made a prototype environment called PyLIS with PyBullet, which is relatively easy to modify.
Requests for Research
Five requests for research were compiled in FY2018 with ProjectAGI, an AGI research organization based in Australia, which takes the WBA approach and partnered with us in 2017.  RFRs also have a role to show paths to the realization of AGI.
Support for international academic events
In FY2018, we supported the Biologically-Inspired Cognitive Architecture (BICA) conference, which has a high affinity with the WBA approach, in the form of a donation (US $ 845).  At BICA2018, we announced the development methodology as a WBA-related study [1].
Participation in academic events
A WBA symposium was held at the 28th National Conference of the Japanese Neural Network Society (JNNS2018) in August 2018 (proceedings).
Activities to make AGI Beneficial
Because of the potentially large impacts of AGI on humankind, we are conducting activities to make it beneficial, safe, and democratized.  In FY2018, the following activities were conducted.
In an event at Beneficial AGI 2019, an international conference to discuss the future of AGI, Yamakawa made a presentation titled Specifications of brain-inspired AGI development for everyone.  In a session of the Japanese Neural Network Society, he described the path to democratically develop brain-inspired AGI [9].  He also appealed for the need to be prepared for how to handle powerful AGI in Bulgarian television broadcasts.
Publications
[1] Osawa, M., Omori, T., Takahashi, K., Arakawa, N., Sakai, N., Imai, M. & Yamakawa, H.  (2018) Function Map-Driven Development for AGI. In: Samsonovich A. (eds) Biologically Inspired Cognitive Architectures 2018. Advances in Intelligent Systems and Computing, 848.
[2] Miyoshi, K., et al. (2018) Hierarchical Variational Recurrent Autoencoder with Top-Down prediction (poster) (Joint symposium of 10th Optogenetics Research Conference and Second International Symposium on Brain Information Dynamics 2018)
[3] Itaya, K., Yamakawa, H., Tomita, M. & Takahashi, K. (2018) BriCA Kernel: Cognitive Computing Platform for Large-scale Distributed Memory Environments.  In the proceedings of the 28th Annual Conference of the Japanese Neural Network (JNNS2018)
[4] Osawa, M., Mizuta, K., Yamakawa, H., Hayashi, Y. & Imai, M. (2018) Development of Biologically Inspired Artificial General Intelligence Navigated by Circuits Associated with Tasks. In the proceedings of the 28th Annual Conference of the Japanese Neural Network (JNNS2018)
[5] Miyoshi, K., Arakawa, N. & Yamakawa, H. (2018) Do top-down predictions of time series lead to sparse disentanglement? In the proceedings of the 28th Annual Conference of the Japanese Neural Network (JNNS2018)
[6] Mizutani, H., Ueno, M., Arakawa, N. & Yamakawa, H. (2018) Whole brain connectomic architecture to develop general artificial intelligence. Procedia Computer Science, 123, 308-313.
[7] Aizawa, T., Ayako Fukawa, A., Yairi, I. & Yamakawa, H. (2018) Construction of a functional hypothesis about local brain circuit by integrating neuroscientific knowledge as a framework. Poster at Sixth INCF Japan Node International Workshop (AINI2018). http://bit.ly/2Jo1i7c
[8] Okamoto, H., Suzuki, Y., Hayami, T., Negishi, S., Tamura, H., Mizutani, H. & Yamakawa, H. (2018) Connectome informatics: reverse engineering of whole  brain networks. Poster at Sixth INCF Japan Node International Workshop (AINI2018). http://bit.ly/2JlZrQl
[9] Yamakawa, H., et al. (2018) Strategy to Build Beneficial General-Purpose Intelligence Inspired by Brain, In the proceedings of the 28th Annual Conference of the Japanese Neural Network (JNNS2018) (Slides: http://bit.ly/2yxNtM0) 
WBAI Activities and Volunteering
WBAI activities such as WBA seminars and hackathons have been conducted with non-paid volunteers, except for two paid part-time workers at the secretariat.
Financial Statements for FY2018
The balance sheet and cash flow for FY2017 are presented below (Table 1 and Table 2).
The revenues were 6,948,353 yen and the expenditure totaled 1,469,956 yen for administration and 2,930,757 yen for operation.  Expenses for administration and operation have not changed much from FY2017. Most of the operating expenses were spent on public relations and education, and no R&D expense was recorded (R&D were carried out with the budget of exterior research institutions).
The businesses of WBAI have been financially supported by sponsors including private companies. (As of July 2019, there were seventeen sponsors consisting of enterprises and individuals.)  Two supporting members at the foundation paid fees for five years in advance, which are recorded as Advance Received on the balance sheet.
Meeting expenses accounted for a large portion in FY2018, due to not having the expenses balanced out with the fees collected from the meeting participants, which are recorded as Other Income.  The travel expenses were mainly for the hackathon participants. The honoraria were paid to the speakers at WBA seminars.
The  expenses for the office personnel are shown as Subcontracting/outsourcing Expenses.  The rent was paid to Dwango Co., Ltd. The remuneration was paid to an accountant office.  The expenses for secretariat personnel and rent were apportioned by 50% (50/50) for operating and administrative expenses .
Table 1: Balance Sheet (as of March 31, 2019)
Items

Amounts (JPY)

Ⅰ

 

 

 

 

Assets

 

1.

Current Assets

 

Cash and Saving Account

8,859,403

Total Current Assets

8,859,403

Total Assets

 8,859,403

Ⅱ

 

 

 

 

 

 

Liabilities

 

1.

Current Liabilities

 

Advance Received

2,870,000

Withholding Taxes

10,210

Total Current Liabilities

2,880,210

Total Liabilities

2,880,210

Ⅲ

 

 

 

 

Net Assets

 

Retained Net Assets at the Beginning of Period

3,431,553

Total Net Assets

5,979,193

Total Liabilities and Net Assets

8,859,403
Table 2: Cash Flow
Items

Amounts (JPY)

Ⅰ

 

 

 

 

 

 

Recurring Revenues

 

1

Fees

 

Fees from Regular Members

140,000

Fees from Supporting Members

6,000,000

Total Fees

6,140,000

2

Other Revenues

 

Interest Income

78

Other Income

808,275

Total Recurring Revenues

6,948,353

Ⅱ

 

 

 

 

 

 

 

 

 

 

 

 

 

 

 

 

 

 

 

 

 

 

Ordinary Expenses

 

1

Operating Expenses

 

⑴

Total Personnel Expenses

30,890

⑵

Other Expenses

 

Honoraria

197,576

Subcontractor/outsourcing Expenses

845,505

Travel Expenses

172,010

Rent of Space

329,519

Meetings

462,876

Prizes/Awards

186,640

Other

705,741

Total Other Expenses

2,899,867

Total Operating Expenses

2,930,757

2

Administrative Expenses

 

⑴

Total Personnel Expenses

0

⑵

Other Expenses

 

Subcontractor/Outsourcing Expenses

845,505

Remuneration

259,200

Rent of Space

329,518

Other

35,733

Total Other Expenses

1,469,956

Total Administrative Expenses

1,469,956

Total Ordinary Expenses

4,400,713

 

Net Assets Variation of the Year

2,547,640

Net Asset brought forward

3,431,553

Net Asset carried forward

5,979,193